★★★
As Low As $250 Installed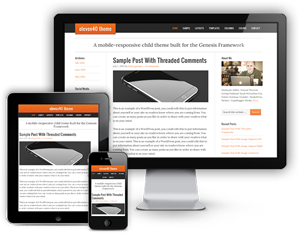 This includes the base installation of WordPress, a basic theme that fits your business style, and 5 pages created with your supplied content. We'll also add in your logo and make a few changes to things like link colors to better match your logo. If this sounds like something that might interest you please use this link to get in touch – contact us
WordPress – The Best Option For Your Business
Scalable – Responsive – Easy To Use
Anybody who knows me will tell you that I think WordPress is the absolute best option for creating your website. The back end is incredibly intuitive and easy to use. Anyone in your company with experience using a word processor can create new content for your website, make changes to your menu, add pictures, etc. Pretty much anything you want to do can be done with just a few clicks of your mouse. As if that wasn't enough there are thousands of beautiful templates and function adding plugins available at little or no cost. This gives you, the business owner, an unlimited number of low cost options when it comes to building your online presence.
WordPress Maintenance Plans
Unfortunately a website is not something you can just throw up on the internet and forget about. If your utilizing a content management system such as WordPress to add functionality and ease of use then there are a few extra things you need to do. Keeping your website running well and stopping spammers from taking advantage of you requires software updates, this is a key function in keeping your website safe. We also understand that keeping track of this takes time and that's time you could be spending building your business.
We're here to help with the following Maintenance Plans:
What does it all mean?
Hosting Included – Your website is hosted on CTCDesign ultra fast servers.
Domain Included – Your domain name is included absolutely FREE!
Software updates – WordPress files and all associated plugins are checked for updates DAILY.
FREE design work – Includes free design changes and adding / removing of content for the time specified.
Comment checking – Since the WordPress framework is so popular with bloggers it is targeted by comment spammers, we'll take care of it.
Off-Site backups – We'll back up your data to one of our offsite backup servers weekly.
Malware scanning – Scanning of the files on your website using Sucuri SiteCheck scanner for known malware and blacklisting status.
Uptime monitoring – We'll check your website every 5 seconds to make sure it is up and running, if it goes down we'll fix it.
Speed monitoring – Search engines love fast websites, we'll test yours once a month to make sure it is running as fast as possible.
Monthly reporting – A detailed monthly report will be emailed to you with all work performed.

Which Plan is best for you?
Hosting-Only – If your website is strictly HTML then a hosting only plan will work for you.
Bronze – If you update your website with new content on a regular basis but don't want to be bothered with the technical aspect of keeping your website software up to date then this plan is for you. This plan does not monitor for malicious intrusions or functionality so it is possible that your website could be hacked or break and become unresponsive. If this happens we can help! While it is very economical, it should only be chosen if you have a good grasp of basic web design.
Silver – If your not available to spend time on your website on a regular basis then this plan is for you! We'll keep an eye on it for you and make sure it is up to date and scan regularly for malicious activity such as unauthorized administrative logins and files uploaded to your website without your knowledge. This plan is automatically charged to your credit card once a month.
Gold – All the benefits of the Silver Plan are included as well as Brand Management and Social Media monitoring for local SEO. We'll keep an eye out for new posts to your social media pages and monitor any reviews that are posted online about your company. This plan works best if your concerned with doing well in Search Engines and keeping your Company's reputation in tact. This plan is automatically charged to your credit card once a month.
Here Are A Few WordPress Websites From Our Portfolio